Most Popular Services
✓ SSD High-Speed cPanel Hosting Plans ✓ Hacked Website Cleanup Service ✓ WordPress Security and Update Service
Free Website Transfer
Our staff is expert at moving websites. We are WordPress experts as well. We can migrate all of your websites to our hosting service free of charge today!
Free Malware Scanning
Invest in security with TVCNet's free daily malware scanning, discounted hack repair services and Free SSL. If your website is hacked, we will work to help you resolve the issue quickly.
WebTight Security™ Focus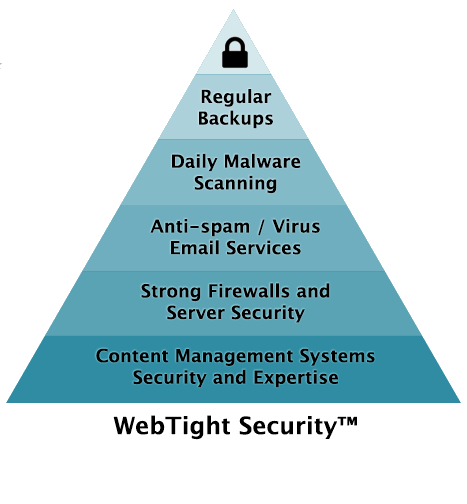 Innovation, customer service and security have been our mantra since 1997. We understand would-be-hackers rarely take a day off, and with open source scripts like WordPress, Joomla, Magento, Zencart, and others becoming more popular it can be difficult to fully secure a website against every possible exploit.
So we coined the term, " WebTight Security™ " to better describe our focus on security and customer service.
We believe your web host should be your first line of defense. So many hosts today seem to believe security is the sole responsibility of their clients. We humbly disagree.
Web hosts whose idea of server security is to simply turn off or suspend their clients' business websites after identifying malware are simply failing to fulfill their clients' needs. We believe website security should be a team effort, and that shutting a customer's website off at the first sign of malware is simply bad business.
We also believe that strong server firewalls, server security, and maintaining a close connection with the open-source community, particularly in regard to content management systems like WordPress and Joomla are a day to day responsibility.
Our free daily root-level malware scans are automated, and both malware and email logs are visually reviewed by our staff daily. If we find a client's website or email account(s) have been compromised we will notify the owner of the site, normally the same day; recommend courses of action to resolve the issue; and even help clean up compromised websites if required.
(13) accountX, Scanning /home/accountX:
# ClamAV detected Virus = [PHP.remoteadmin-1]: '/home/accountX/public_html/js.php'
# Regular expression match = [/tmp/cmdtemp]: '/home/accountX/public_html/js.php'
# Regular expression match = [PHP INJEXT10N]: '/home/accountX/public_html/js.php'

--------- SCAN SUMMARY --------
Scanned Directories: 1337
Scanned Files: 9294
Ignored Items: 10
Suspicious Items: 4
Virus found: 1

*Customer notified and awaiting follow up.
With TVCNet's WebTight Security™ focus your website will be in good hands.
"Regular Backups + Daily Malware Scanning + Anti-spam / Virus Email Services + Strong Firewalls and Server Security + Content Management Systems Security and Expertise = WebTight™ Security"
✦ Review some of our customer
Service Testimonials
?
✦ Like help in
managing your WordPress Security and Updates?
✦ Or, need help cleaning and securing
hacked web pages from your website
today?