In the 90's, TVCNet pioneered the concept of personalized service , and we were one of the first hosting companies to actively promote PCI compliance, a checklist of web server security standards promoted by the FBI and credit card companies.


In 2009 we were the first hosting company in the world to provide "root level" malware scanning free to all of our shared hosting clients. While most hosts are still outsourcing their security we built our system from the ground up to meet and exceed the security requirements of our customers.


Most of our hosting plans include a month or more free when paid yearly.
Rates with an asterisk* are our average monthly discount rate if you purchase a year at a time.


Anytime Money-Back Guarantee.
If you choose to cancel we will return any unused monthly hosting fees paid.
Try the cPanel Demo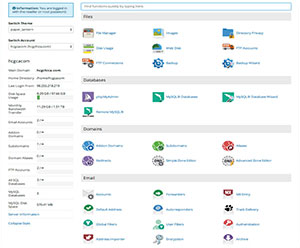 ⋅ Rates above (*) denote "as low as" avg monthly rates on yearly Linux hosting orders (with one month free discount). Dedicated server plans included one month free when paying six months in advance.
⋅ All SSD plans include cPanel and dozens of eCommerce and business ready scripts "pre-installed."
⋅ Free IP Addresses are a by request option, and some justification may be required per ARIN (The American Registry for Internet Numbers) guidelines.
⋅ All hosting plans include alternate port SMTP, such that you can send email from your own domain name (a bonus for cable modem users).
⋅ Spamassassin email filtering, and WebMail are likewise included with all accounts (Horde, SquirrelMail and Roundcube).
⋅ SSD : SSD is the acronym for "Solid State Drive" a super fast type of hard drive. SSD hosting provides some of the fastest load times for websites, exceeding the speed of most 100x more costly enterprise grade dedicated servers prior to 2010.
⋅ SSD Manager Plans are built for web designers and businesses who wish to have more direct management of their client's web sites (includes cPanel WHM control panel).
⋅ cPanel : cPanel provides direct management of nearly every hosting feature, from adding/removing email accounts, administering MySQL databases, changing passwords, viewing space and bandwidth usage, installing shopping carts, and many other features
⋅ Reseller Unlimited Domains : Also referred to as "WHM," allows you to create and manage individual accounts, reseller accounts, end customer cPanel settings, and many other features.