The Virtual Company Network, Inc. (TVCNet)
will help you establish and develop your businesses online. We've been providing secure, customer service oriented, managed hosting and domain name services to people like you since 1997.

Read what some of our customers are saying about us on our signed testimonials page.
In the 90's, TVCNet pioneered the concept of personalized service , and we were one of the first hosting companies to actively promote PCI compliance, a checklist of web server security standards promoted by the FBI and credit card companies.
In 2009 we were the first hosting company in the world to provide "root level" malware scanning free to all of our shared hosting clients. While most hosts are still outsourcing their security we built our system from the ground up to meet and exceed the security requirements of our customers.
We likewise own our own equipment, and have servers located in both Fremont and San Diego, California.
TVCNet is committed to exceptional customer service


With TVCNet you'll receive expert replies to most web hosting or website related questions, often within 10 minutes or less!



Communication


Whether you're more comfortable receiving responses via email, live chat or a friendly voice on the phone, you can rest assured we'll take care of you and your online business.



Security


We are experts in proactive and reactive website security techniques.



Service is our business


While many web hosts offer little more than the word "unlimited" and a vague promise of responsive service, we wake up every morning asking ourselves "how can we best help our customers succeed?"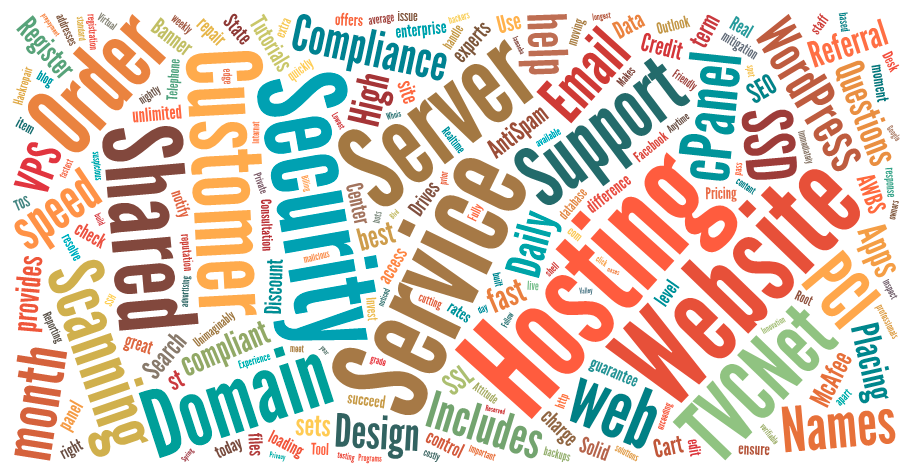 Why should I choose TVCNet to help support my business?


There are many more reasons why we feel TVCNet is your best solution which you can find listed on our website. But let me just close by saying that we want to be your web hosting company. We're a friendly, responsive, customer service, security minded company. We can be your one-stop site for hosting, domain name registration and website security management.

We hope you'll choose to partner with us today.


Best Wishes,

Jim Walker
Founding Partner
(619) 479-6637